Maritime Connectivity Platform
A decentralised platform facilitating secure and reliable information exchange
within the maritime domain and beyond
The consortium has released a concept document for the MCP
The initial concept document for MCP was released by the consortium in 2019, shortly after the consortium was formed, so an update of this central overview of MCP was due.
This document is a conceptual overview of the maritime connectivity platform (MCP) with a description of three core components – the MIR (Maritime Identity Registry), MSR (Maritime Service Registry), and MMS (Maritime Messaging Service).
Also –  the general principles and relations to other maritime standards, including the governance of MCP – the MCP Consortium (MCC)- are described in the document.
Digital Incubator launched!
A new initiative has been launched with the MCP as an important component.
The Digital Incubator initiative aims to implement technical services as specified by IALA, IHO, and other international organisations – based on early drafts of their specifications. Within the Digital Incubator – these services will be implemented and tested – and experience from this exercise will be fed back to the relevant organisations.
Obviously authentication and service discoverability will be handled by the MCP – or more specifically, the free MCP public demonstrator operated by memebers of the MCP consortium.
Organisations participating in the initiative include:
German Aerospace Center
Korean Research Institute of Ships and Ocean Engineering
General Lighthouse Authorities of United Kingdom and Ireland
Canadian Coast Guard
Fintraffic
Wärtsilä
Swedish Maritime Administration
Read more on digitalincubator.maritimeconnectivity.net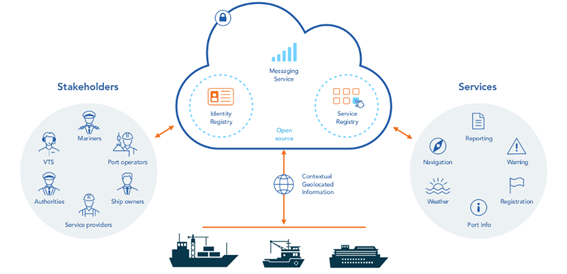 The MCP is a decentralised platform that facilitates secure and reliable information exchange within the maritime domain and beyond. Beyond – because the maritime world isn't isolated, but need to exchange information with other domain – for instance with other transport domains.
The information exchanged can be almost of any nature, ranging from private confidential information between a vessel and the shore office of the shipowner, to public information provided by authorities, such as the provision of navigational warnings.
As a decentralised platform, there is no single entity operating this. Several organisations are MCP service providers, and collectively they form "the Maritime Connectivity Platform".
The MCC serves two overall purposes:
 –  Defining the MCP and criteria for being an MCP service provider
 –  Endorsing organisations to be MCP service providers