Maritime Connectivity Platform
A decentralised platform facilitating secure and reliable information exchange
within the maritime domain and beyond
Another successful MCP seminar concluded
The MCP seminar on the Maritime Messaging Service (MMS) was successfully held at the IALA HQ on the 30th of September. An overall introduction was given to the MCP and the MCP consortium after which a detailed explanation of the MMS functionality and architecture was delivered. Finally an interactive demonstration was made, in which the various features of MMS was demonstrated, including direct messaging (using MRN as addresses), subscription and multicasting – where the audience was also invited to try out the system.
The presentations of the seminar are located here – and it is envisioned that MMS will relatively soon be made available as part of the MCP public demonstrator provided by members of the MCP consortium.
Jin's introduction to the seminar
Thomas's presentation on core components and their usage
Michael's presentation on MMS architecture and functionality
MCP consortium strengthened with new host members

Since the establishment of the consortium in 2019, the MCP has undergone a significant maturation. This is now reflected in the composition of the host members of the consortium – where most of the original members were research organisations – these are now stepping down to take roles as regular members – and new more operational /governmental organisations are stepping in as new host members.
Specifically Fintraffic VTS and Australian Maritime Safety Authority have already signed as new host members, and the Canadian Coast Guard is in the process of becoming new host member. In this process the old host members, the German Airspace Center, the University of Copehagen and RISE Research Institute of Sweden will be taking a step down and becoming regular members – however equally committed to the further development of and realisation of the MCP.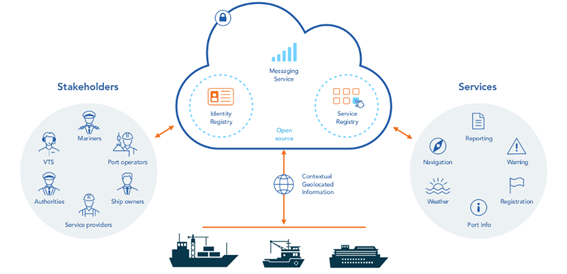 The MCP is a decentralised platform that facilitates secure and reliable information exchange within the maritime domain and beyond. Beyond – because the maritime world isn't isolated, but need to exchange information with other domain – for instance with other transport domains.
The information exchanged can be almost of any nature, ranging from private confidential information between a vessel and the shore office of the shipowner, to public information provided by authorities, such as the provision of navigational warnings.
As a decentralised platform, there is no single entity operating this. Several organisations are MCP service providers, and collectively they form "the Maritime Connectivity Platform".
The MCC serves two overall purposes:
 –  Defining the MCP and criteria for being an MCP service provider
 –  Endorsing organisations to be MCP service providers